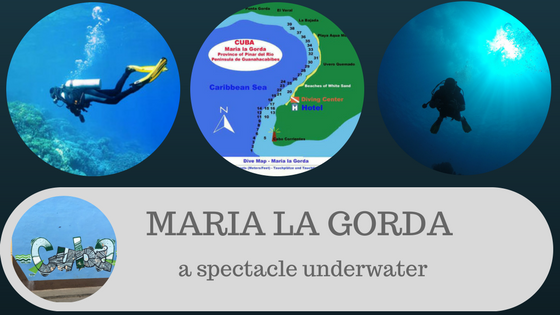 Diving  &  accommodation 
Available all Year
BOOKING ONLINE
A bit of History:
There are two different versions of the story about  "María la Gorda", which gives its name to the international diving center.
1- It is said that she was a Venezuelan Indian brought by force and raped by the entire crew of a Pirate Galleon.
2- The second version says that she was the daughter of a Spanish captain who was shipwrecked during a hurricane in the area.
According to data, Maria was a woman with big breasts, classified as a "filibustera", food and women's trafficker, which offered to the pirate ships that passed through the area, to shelter from bad weather or with the objective of ambushing Spanish convoys in transit through the place; that is why there are more than a hundred galleons sunk in those sea beds, according to documents from the Archive of Seville, in Spain.
INTERNATIONAL DIVING CENTER" MARIA LA GORDA.
The international diving center, located on the Guanahacabibes Peninsula, which is part of a Biosphere Reserve, is located in the south of Pinar del Río. The site has a beach, a complex of cabins with restaurant, bar and shops.
It has 60 diving points of great beauty, for the quality of the coral reefs; the furthest one is located 20 minutes from the jetty. The waters are calm and with great visibility, and dive between 15 and 35 meters deep, along where the continental slope begins, a steep wall of 2000 meters where almost all the marine fauna typical of the Caribbean Sea is concentrated.
Diving packages with accommodation:
- 4 DAYS / 3 NIGHT & 6 DIVES  "2 dive a day" 
- 5 DAYS / 4 NIGHT & 8 DIVES  "2 dive a day"
- 6 DAYS / 5 NIGHT & 10 DIVES  "2 dive a day"
ACCOMMODATION:
CIB MARIA LA GORDA ***
DEPARTURES FROM:
VARADERO AND HAVANA
INCLUDED :
- transfer
- tank and weights
- dives from boat
- accommodation with breakfast 
Price: 
Please contact us
Solo travelers are welcome!
For booking your place  is required a deposit non-refundable of 50 % . The remaining balance be paid for at least 28 days before the scheduled date of departure,
If the tour is booked less than 28 days before departure, it should be paid for no later than two days after making the reservation.
Cancellation:
The following cancellation fees will be charged:
- More than 28 days before departure: Loss of deposit
- Between 27 and 15 days before departure (inclusive): 50% of the holiday cost.
 -14 days or less before departure (or failure to join the holiday or failure to pay any payment due) (included): 100% of the holiday cost.