Dive sites
Cuba, the largest Caribbean island, and one of the main tourist destinations in the Caribbean, is presented as one of the most popular destinations diving enthusiasts. In addition to the rich waters of its coasts, the constant involvement of the authorities in the protection of marine ecosystems have resulted in a full of life´s reef, housing an underwater landscape that won't leave you indifferent to the visitors. Discover Coral Beach or Bay of Pigs, a gem for diving lovers
In this section we highlight the most relevant areas of immersion in the province of Matanzas and Varadero around. If you are interested in knowing other dive sites in Cuba, see our program  "Scuba Diving Tours" or contact us

coral beach

Only 10 min by car, on the old road between Varadero and Matanzas, it is Coral Beach,  a fascinating coral reef that extends along the entire coast and which can be accessed without boat. At some points, corals stand even surface. Here there are more than 30 species of coral, creating a beautiful underwater landscape formed by small caves, channels, passages and caverns. Here you can see large kind of fish, moray eels, lobsters, barracuda and other reef fish characteristics.
Maximum depth: 18m
Recommended activities:
- Snorkeling
- Dives for beginners
- Dives for certified divers
- Night dives
saturn cave
Cavern flooded with fresh und sea water, which makes a thermocline effect, with an excellent visibility, plus abundant limestone formations, stalactites and stalagmites of great dimensions. It has a free surface lake and two galleries where you can find many fish, crabs and blind shrimp. an amazing place to visit
Maximum depth: 20m
Recommended activities:
- Snorkeling
- Swimming

bay of pigs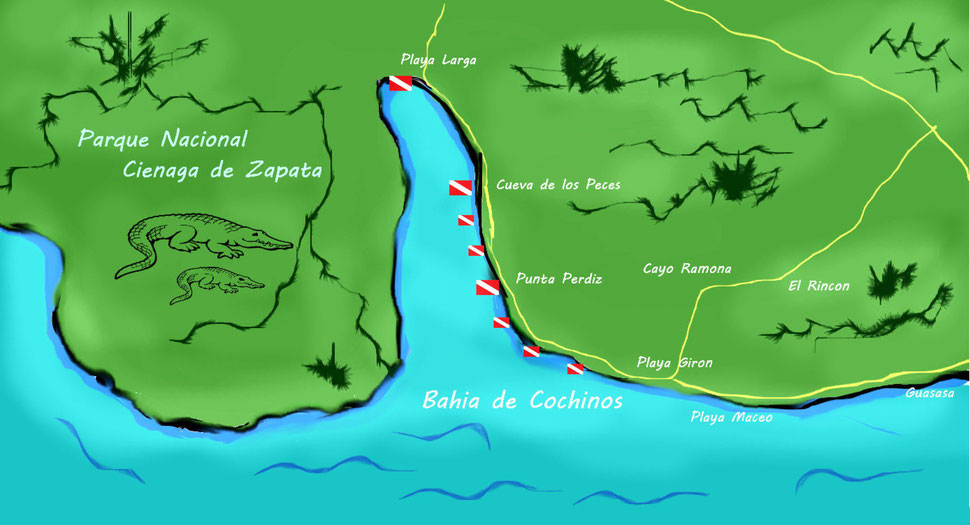 To 105 km from Varadero, in the south of Matanzas province, we find Bay of Pigs, an enclave located in the Natural Park of the Cienaga de Zapata, declared by Unesco in 2001 "Biosphere Reserve". Besides being a prominent place in the history of Cuba, it is a wonderland for fans of diving on the island. Here we have more than 25 dive sites, among the most prominent: The Cueva de los Peces, El Tanque, Punta Perdiz, Caleta Buena and Los Cocos
About 30 meters from the shore, we can see, a striking underwater wall that is lost in the depths and covering the entire coast from Playa Larga to Playa Giron, accessible without boat. It is also an important place for its cenotes and flooded caves, fascinating for lovers of speleology or Cave diving
We can not forget the Jaruco, a ship that sank in 1984 on purpose where the lovers of this type of diving can visit.
Maximum depth: over 40 m
Recommended activities:
- Snorkeling
-Dives for begginers
-Dives for certified divers
- Night dives
- Wall diving
- Wreck diving
-Deep diving