EURODIVES
We want to keep doing what we like, so we are also across the Atlantic, forming new divers or traveling in the European geography and diving on the best diving point in the Mediterranean.
scuba diving in SPAin
We drove up to White Coast, one of the best places in Alicante´s coast. We are in Javea, places known for its secluded and lush coves, islets and virgin rocks. It can boast of being the Spanish province with more blue flags, distinction awarded to the best beaches in the country, so much for the quality of its waters as of its services. 
to do
our facilities
In this area we are rocky, prolongation of the cliffs that are developed along the coast. Sandy and other villagers by enormous fields of posidonea, alga of important ecological value and contributes greatly to enrich and nurture the life underwater in the Mediterranean Sea.
 Visibility is usually pretty good, around 20 metres, even to reach 35 metres and the water temperature is usually between the 27ºC in summer up 12ºC in winter.
There is a multitude of points of dives for all levels, as it is the Granadella cove, suitable for beginners, not exceeding 10 metres of depth or for the most experienced divers, the Cueva de la Virgen in the vicinity of San Martin cape, recommended place in adittion to take interesting pictures underwater.
Among the  most remarkable fauna are huge eels, octopuses, sea breams, large cicadas, etc...
 Through our associate Center PADI RESORT 5* Scuba Diving Cabo de la Nao, we can guarantee the best service to our customers with fully equipped facilities a few meters from the Arenal beach, and we have the comfort of 3 vessels moored at the gates of the Center.
Also have accommodations for our divers at affordable prices and that you will make more comfortable your dives or courses during your stay in Javea.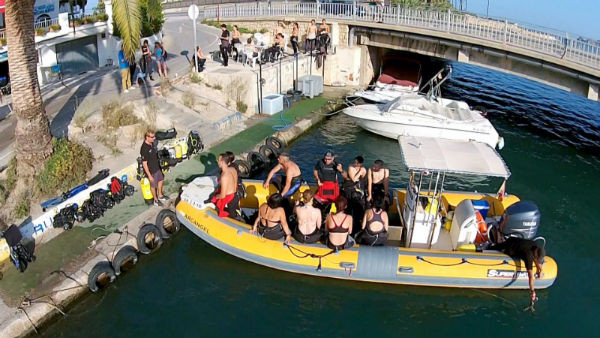 our services
We do organized tours with package and accommodation as well as a wide variety of courses for all levels, from Open Water Diver to Padi Instructor Course. 
If you are interested in any of these services, please contact us and tell us what you want. We will answer you as soon as possible and we will offer you the best choice. 
we are here